Our Childrens Inheriatince AKA The Money Pit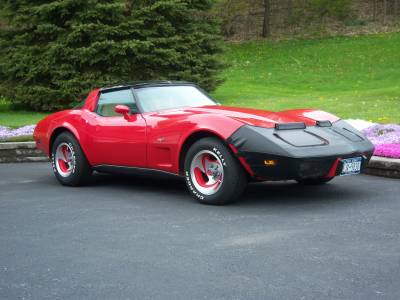 Mary and my cars are kind of a rekindled interest in cars of the era that we were brought up in. Our first project is, and I say "is" because they are "always" a project, a 48 fat fender chevy that we purchased with a newer paint job and interior. We drove it for a year as it was but it would not do the job "I" wanted it to do so I spent some money. That's where the inheritance money part comes in. I first put in a Mustang Kit front end and a 3:31 Chevelle rear end. Then with the help of a good friend I rebuilt a SBC 400 and had a 700R4 rebuilt to go with the combination. I bought a American Auto Wire harness and replaced the tail lights with LED'S. Along the way I picked up a sunvisor that I revamped to fit the car and made some, what I call, eyebrows for the head lights. That took some of the ugliness out of the exterior I hope. But the way it was matched my profile. As for the 78 corvette, it was purchased about five years ago and we have enjoyed driving it the way it is. It was my wife's choice and I kid her about it but the previous owner maintained it very well and we think it was a good buy.
Some of the trips we have taken include Macungie, Pa. for a car show, Bennington, Vt. at Hemmings Motor News several times for their Thursday night Cruse-in and trips to Mass., Vt. and NH. for Car Shows and road trips .We both laugh about our childrens inheriatince , our money pit and reliving our childhood but DON'T TAKE OUR CARS away from us!!!
Stay Informed
When you subscribe to the blog, we will send you an e-mail when there are new updates on the site so you wouldn't miss them.