The Syracuse Nationals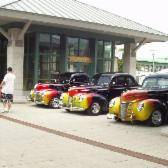 Back in late 1999 there was a rumor going around that a couple of guys were going to try to put on a national type of car show in the Syracuse area , they approached the Car Club Association of Central New York about helping them with it by having members of the Association help man some of the jobs during the show . The Association decided to volunteer to help and the show would donate money to the Association to be given to some of the charities in the area . Our Club asked to work the gate where all the show cars entered and our job would be to check and make sure that they had the right credentials on the car to get in and that the car meet the year restrictions for the show and to take the tickets of the people in the cars . The club was allowed to do this job and we started with their first show in 2000 and have been doing it every since . After a couple of years the 2 guys started The Right Coast Association a car club association like N.S.R.A and Goodguys and the Syracuse Nationals had it's own group . The 2 guys eventually split and 1 of them Bob O'Connor stayed with it and with the help of his family now control Right Coast . The Car Club Association still works for the Syracuse Nationals but the Clubs that were working now get the money so they can use the money to support charities in their area.
Our Club has worked the Car Gate [ Gate 10 ] at the New York state Fairgrounds for the Syracuse Nationals since the first show and have had to make a lot of changes in the last 15 years to keep up with the growing number of entries , to keep the cars moving and not cause any bottle necks . We work in 3 different shifts with the first shift getting there about 3:30 - 4:00 AM to start the day . Over the years the early morning shift has been getting more and more cars there early for that special spot everyone is trying to get in on the grounds . We go out and walk the line and check the cars and take tickets on the first group of cars so that when the gate opens they can get right in and create less time for them to move , that first group of cars through is something to watch as they go thru . the first crew works till about 9- 10 in the morning and the next crew takes over for them till about 1 when the 3rd crew comes on . We have a pretty good time working the gate and have made a lot of friends as they come thru having fun with them is part of the job .