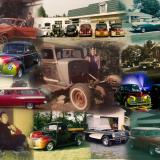 Dick & Dave Stoker's 1940 Ford Standard Business CoupeDick & Dave Stokers's 1940 Ford P/U    This is a story of our trip to Memphis Tn. for the NSRA Street Rod Nationals in 1980 with our friends and Club Members Gary Volpicelli and Alan Mitchell . We drove  our 1940 Ford 2 door Deluxe Sedan , Gary drove his 4 inch chopped  30 Model A P/U and Alan drove his work in process 1940 Ford 2 door Standard Sedan . Alan had gotten the Sedan in April and it was thrown together rather quickly by him , Dick , Ron Weibly , and I in about 5 months of very late night work sessions at the garage . We put a 283 SBC with a 350 turbo in it with a Nova rear, we got it done so we thought about a week before we were going to leave for the Nats .
    Alan plans were to leave on Friday night and go to Illinois to see some relatives of his first wife Donna's with Gary and Dick and I leaving Saturday after work about 6 PM , this part of the plans went fine . Gary and us left about 6 as planned and drove to just inside Ohio for the night , got up early the next morning and drove to Kingsville Ohio for breakfast at one of my favorite little truck stops . Back on the road and traveling in the passing lane as was our usual lane we were making go time until we heard the truckers talking on the CB about a Smoky up ahead in the center so we backed it down and got to the right . We got pass the Smokey and he pulled out heading our way , he got next to Gary and then next to me and asked us to pull to the side which we did. He got out of his car and came back to me and asked if we were traveling with another car and I said no and he said there was a woman named Mitchell that had called the troopers and asked to be watching for us , now I knew what he was talking about . It seems Alan had broken down and was at the next exit at a tow truck drivers house looking for us , we got directions from the trooper to the tow truck drivers place and were on our way . Alan had meet a great guy in the tow truck driver and he had put Alan and his family up for the night and fed him and was letting him use his tools to work on the Sedan , he had rubbed a hole in his Transmission pan and lost all his fluid . when we got there they were sure glad to see us and we went to work pulling the pan off and trying to repair the hole which we did.
    We were back on the road in no time and running together and it was decided that we would run together to Terre Haute Indiana where Gary and us would head south to Smithland Ky to see relatives of Dick and mine and wait for Alan to meet up with us in a day or two. We were making good time in the passing lane again until Alan wore  another hole in the tranny pan , we made it to the next exit and bought some more fluid and used our copy of Fellow Pages to locate a guy near Indy who helped us out with a new tranny pan and the use of his home to get it back on the road and another whole chapter of stories that could be told . Again we were back on the road and stayed the night in Terre Haute and in the morning Alan headed west and Gary and us headed south . 
    It's about here where  I should tell you about the " Lightning Rod" it was a 104 inch antenna with a strobe light on top that I had gotten from one of my warehouses when I worked for Dave Cardner at Crown City Speed Shop , I had it for a couple of years and hadn't put it on anything because Dave said I would be the biggest squarrel in town. This thing would thrown a arch of light in about a 40 foot circle ,boy was it bright . We decided we were going to put it on for our trip to Memphis and use it a little , traveling out on the interstate on a flat road you could see it about 5 miles . Traveling down the interstate between Terre Haute and Evansville we used it a couple of times and you should have heard the truckers talking , you could hear them coming at you on the CB saying [ what the hell is that ] , like I said you could see it for 5 miles . We had a great time on that trip with the light and if I could have gotten any more of them would have sold a lot .